Washington State First to Launch Regional Shellfish Initiative
When NOAA published its draft policy for aquaculture last year, The Nature Conservancy enthusiastically supported an industry-initiated National Shellfish Initiative. The new Initiative was designed to advance the science and practice of both responsible aquaculture and effective restoration of shellfish reefs and beds. On December 9, 2011, Washington Governor Christine Gregoire and NOAA Administrator Dr. Jane Lubchenco announced the Washington Shellfish Initiative – the first regional expression of the national program. The Washington effort addresses reforms that will allow responsible shellfish aquaculture to expand, boosts efforts to restore native Olympia oysters and pinto abalone, and focuses funding and inter-agency attention on water quality problems that affect shellfish.

The announcement was highlighted in Seattle newspapers and in an AP article for national distribution, and on the local National Public Radio affiliate. Karen Anderson, Executive Director for TNC's Washington Chapter, was quoted: "The shellfish initiative is good news for Puget Sound and for shellfish growers who provide us with healthy and delicious local seafood. It's a big step toward improving water quality for both people and nature."

The event also attracted participation from the Division Commander of the US Army Corps of Engineers, who will join with other regulators in seeking ways to consolidate and simplify permitting processes for both shellfish aquaculture and restoration projects. The Chair of the Northwest Indian Fisheries Commission also attended the announcement, and is an important voice for shellfish and salmon restoration in Washington.

The Conservancy's Washington Chapter has been working with NOAA's Restoration Center, shellfish farmers and environmental groups for about 10 years to restore native Olympia oyster populations in Puget Sound. More recently TNC's partnership with the industry has expanded to include policy issues related to the industry and restoration, joint interests in habitat protection and water quality, and science to verify ecosystem services derived from shellfish. The strategy is to employ both farmed and wild shellfish to mitigate nutrient loading and enhance fish habitat in Puget Sound and Washington's Pacific Coast estuaries. TNC is developing, at a national scale, a set of ecosystem models that can be used to set meaningful restoration goals, which will help to advance the Initiative.

Washington leads the country in production of farmed clams, oysters and mussels with an annual value of over $107 million. Washington shellfish growers directly and indirectly employ over 3,200 people and provide an estimated total economic contribution of $270 million. Among TNC's leading industry partners is Taylor United, a family-owned business that is North America's largest producer and exporter of fresh oysters and clams. Bill Taylor, president of Taylor Shellfish, said "We have never before experienced this level of unified commitment from so many critical stakeholders. We believe this is the level of effort required to ensure that the Initiative's goals are achieved."

Contact Paul Dye for questions.
---
Metrics and Monitoring Criteria for Oyster Restoration Projects: Emerging Guidance
<![if !vml]>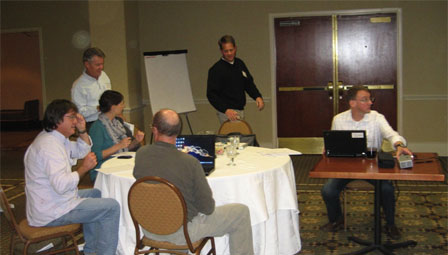 <![endif]>
Workshop participants Mark Luckenbach, Ted Grosholtz, Jenn Greene, Ray Grizzle, Mike Piehler and Rob Brumbaugh discuss metrics at the first workshop, November 30-December 2.
© Loren Coen/Florida Atlantic University
As the value of the ecosystem services provided by these habitats is increasingly recognized as a management priority for conservation organizations as well as local, state and federal agencies, restoration of oyster reefs and beds has gained momentum. With this new momentum comes a need and responsibility to effectively measure the outcomes of restoration projects, ideally in ways that allow for comparison between sites and adaptive management over time. Recently NOAA's Restoration Center and partners have initiated a project to develop a set of standardized guidelines for monitoring of oyster restoration projects throughout the US. The aim is to take lessons from data appearing in the literature and input from restoration practitioners to produce a guidance manual that details standard monitoring metrics and methods that allow for comparison across projects, regions and species. The results will be made available in a 'Practitioners Guide' and supported by material on the oyster restoration clearing house web site at oyster restoration website.

The project is supported by NOAA, The Nature Conservancy and the University of Southern Alabama (USA), with direction from a steering committee including Rob Brumbaugh and Boze Hancock of TNC, Sean Powers of USA, Summer Morlock and Bryan DeAngelis of the NOAA Restoration Center, and Loren Coen of Florida Atlantic University. Lesley Baggett, a post-doctoral research associate at USA is leading the effort to synthesize information and write the guidance manual. In late November, a small group of experts from the west, gulf and east coasts of the U.S. was convened to provide input for the initial draft of the guidance manual. The group recommends two tiers of monitoring, including a set of "universal metrics" that practitioners should use to document fundamental outcomes of all restoration projects, and a set of somewhat more involved parameters that may be appropriate for some projects, with a focus on ecosystem services such as water filtration and fish enhancement from reefs. The manual will provide suggestions around the best existing techniques available for measuring these parameters and will be available for review by practitioners by spring 2012. A second workshop is being planned that will introduce the guidelines to the restoration community more broadly and discuss opportunities for their implementation.

Contact Boze Hancock for more information.
---
Upcoming Events and Conferences

National Shellfisheries Association (NSA) 104th Annual Conference
March 25-29, 2012
Seattle, Washington
Registration now open

Restore America's Estuaries (RAE) 6th National Conference on Coastal and Estuarine Habitat Restoration
October 22-27, 2012
Tampa, Florida
Conference Theme: "Restoring Ecosystems, Strengthening Communities"
Call for Session Proposals is now open
Note: If you would like to contribute an article or submit items for the "Looking Ahead" section, please contact Rob Brumbaugh.
---
Oyster Restoration Publications and Resources
Oyster Restoration Working Group Research and Reports

The Practitioner's Guide to Shellfish Restoration: An Ecosystem Services Approach, as well as back issues of the Shellfish Restoration Clamor are available online.
Cool Video!
"Sink Your Shucks" Shell Recycling Program
Harte Research Institute, Texas A & M University
Corpus Christi, Texas