---
Putting a price tag on ecosystem services provided by native bivalves

By Rob Brumbaugh, The Nature Conservancy
Jim Opaluch, University of Rhode Island
Dan Nees, Forest-Trends
The 2005 Millennium Ecosystem Assessment helped to introduce the term 'ecosystem services' into the vocabulary of many conservationists, managers and researchers. Since then there has been a proliferation of research highlighting the benefits that people derive from ecosystems such as coastal wetlands and underscoring the importance of incorporating ecosystem services into conservation efforts and resource management decisions. One of the obstacles to incorporating ecosystem services into management decisions is assigning a value or 'price tag' on the services provided by habitats or ecosystems. This economic value can be determined in various ways, such as 'Willingness to Pay' surveys of stakeholders, or from markets such voluntary programs (e.g., Forest Trends' Chesapeake Fund) or regulatory 'cap-and-trade' programs designed to reduce pollution (e.g., nutrient trading markets).
While the ecosystem services delivered by oysters, clams and other bivalves are relatively well-described by ecologists, the efforts to ascribe economic value to these services are still in their infancy. To help advance this topic, a two day workshop was convened at the University of Rhode Island in September 2008, to bring natural resource economists and shellfish ecologists together with the goal of identifying the kinds of services most likely to be of economic value or be conducive to being traded in markets. A public symposium was also held as part of the workshop to introduce the concepts of valuation economics, ecosystem services and shellfish ecology. In breakout group discussions, workshop participants concluded that there are several ecosystem services provided by shellfish, such as the role of shellfish in promoting denitrification (a process that removes nitrogen from estuaries and coastal waters), that may have particular economic value or could provide opportunities for developing markets that increase the demand for shellfish restoration and conservation.
Building off the workshop, a subset of workshop participants were convened in a secondary meeting in March 2009 to begin summarizing the workshop findings and to develop some of the research ideas identified through the workshop discussions. A series of papers will hopefully be submitted to various peer-reviewed journals by mid-2009 that will help to advance the conservation, restoration and management of native bivalves.
Workshop support was provided in part by the U.S. Environmental Protection Agency Office of Research and Development and by The National Partnership between The Nature Conservancy and NOAA Community-based Restoration Program.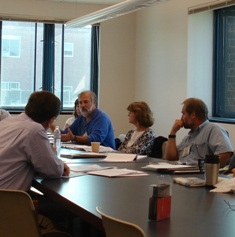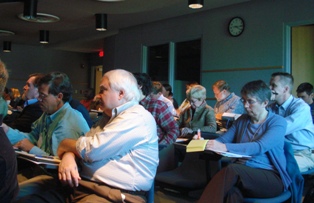 Workshop participants explored the range of ecosystem services provided by oysters, clams and other bivalves in coastal waters. Photo: The Nature Conservancy