Status Review published for the Eastern Oyster

A petition to list the eastern oyster, Crassostrea virginica, under the Endangered Species Act was submitted to NOAA's National Marine Fisheries Service in 2005 (reported in the June 2005 Shellfish Restoration Clamor). Although the petition was ultimately withdrawn by the applicant, the Biological Review Team that was assembled to conduct a preliminary assessment determined that there was merit in proceeding with the formal 'Status Review' of the species throughout its range within the U.S.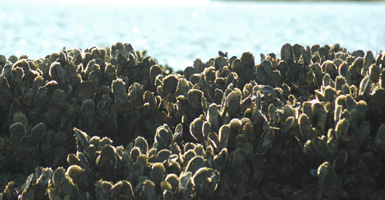 Intertidal reefs like those being restored and managed by TNC in the Virginia Coast Reserve, are prominent features in coastal bays throughout the southern half of the Eastern oyster's range. These reefs provide a variety of valuable services including water filtration, shoreline protection and provision of fish habitat. © Diana Garland, TNC Volunteer, 2006
The Status report concludes that, although not threatened with extinction, the species does face a variety of threats throughout its range, including habitat loss from development and historic over-fishing, water quality degradation/harmful algal blooms, and natural environmental disasters such as hurricanes. These and other threats vary in their intensity from place to place, but none were considered overarching or critical to long-term species survival standpoint. However, the report also notes that restoration is being conducted throughout the species' range and is perceived to be an important strategy for ensuring optimal fisheries productivity and, in some locations, recovery from steep declines (e.g., mid-Atlantic estuaries and northward).
Citation: Eastern Oyster Biological Review Team. 2007. Status review of the eastern oyster (Crassostrea virginica). Report to the National Marine Fisheries Service, Northeast Regional Office. February 16, 2007. 105pp.
The full Status Review report, as well as the original Petition and Findings are available on NOAA's website.
NOAA launches new Restoration Portal

The NOAA Restoration Center has launched a new website containing information about habitats, restoration approaches and relevant background information on an array of species and ecosystems. The site provides a good base of information for restoration practitioners and members of the public who wish to gain a better understanding of coastal habitats. Of particular value are the 'habitat loss' statistics summarized by region in the 'Habitats, Techniques and Resources' tab – from wetlands, to riparian buffers to shellfish habitat, the statistics on habitat loss highlight the need for both effective conservation and restoration.
---
Estuarine Research Federation 2007 Conference, November 4-8
Providence, Rhode Island. Early registration ends September 21st! (Several sessions pertain to shellfish conservation, restoration and management).

10th International Conference on Shellfish Restoration, November 12-16
Vlissingen, Netherlands.

100th Annual meeting of the National Shellfisheries Association, April 6-10, 2008
Providence, Rhode Island. Early registration deadline May 31st.


Back to top »

---
Estuaries Restoration Act – proposals due August 20, 2007
NOAA Community-based Restoration Program – proposals due September 27, 2007