Half Moon Oyster Reef Restoration Gets a Green Light By Mark Dumesnil, Texas Coastal Program
The Nature Conservancy's Coastal Program in Texas got some really great news recently. They were chosen by the multi-agency Estuary Habitat Restoration Council to receive project funding to undertake the construction of an approximate 15 acre oyster reef in Matagorda Bay, Texas. The project site is generally known as Half Moon Reef and represents an area of consolidated substrate that appears to be very conducive to successful reef construction. Information gathered from state fisheries biologists suggests that this reef was once a very large and productive oyster reef. Today very little cultch material exists and recent samples indicate the presence of some shell but not in the quantities necessary to naturally re-establish the reef. The current substrate is mostly compacted clay, sand and some small amounts of shell material.
In 1934, when the nearby Colorado River was diverted away from Matagorda Bay so that it discharged more directly into the Gulf of Mexico, the salinity of Matagorda Bay was changed dramatically, causing Half Moon Reef to degrade. In 1991-1992, however, the Colorado River was reconnected with West Matagorda Bay, restoring some of the historical hydrology to the reef. Recent studies suggest that a portion of the freshwater inflows from the Colorado River do in fact flow over Half Moon Reef, providing a salinity regime much better suited for oyster propagation and sustainable growth. Based on initial assessments of the site, the reef appears to be cultch (shell substrate) limited and not limited by spat (juvenile oyster) settlement. The project proposes to collect and deposit oyster shell and/or limestone marl as cultch material to create additional surface area for natural spat settlement and oyster accumulation. The project will be surveyed prior to construction and then monitored post-construction to determine the success of the project.
The TNC Coastal Program in Texas, along with TNC's Gulf of Mexico Initiative Director Rafael Calderon, will work closely with local conservation partners and members of TNC's Global Marine Team to determine the best approaches for monitoring the project to document the reef's recovery, with the evaluation of ecosystem services such as fish habitat and water filtration in mind. At this time, the Conservancy is soliciting additional non-federal funding to complete the project as required by the Estuary Habitat Restoration Program. "We are very excited about this opportunity to work with the Corps and our many marine partners on the Texas coast to finally have an opportunity to take a well planned shellfish restoration project to scale. TNC has done many smaller shellfish restoration projects around the U.S., and this project is among the largest projects we've attempted" said Rafael Calderon.
Read more about oyster restoration projects in Texas.
Read more about TNC's Gulf of Mexico Initiative.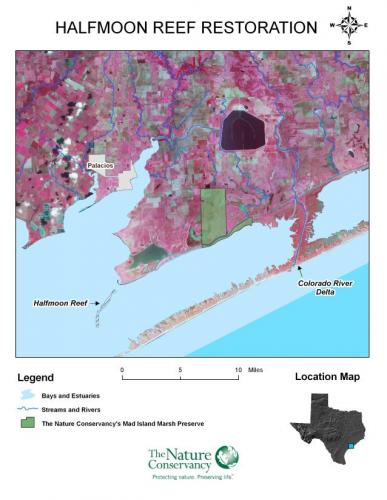 Back to top »