Partners Convene Second West Coast Native Oyster Restoration Workshop

Contributed by Kerry Griffen (NOAA Restoration Center) and Betsy Peabody (Puget Sound Restoration Fund)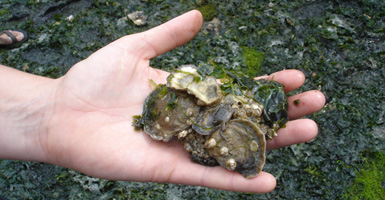 Olympia oyster workshop. © Kerry Griffin, NOAA 2007.

Leading experts from academia, agencies, industry, and conservation groups met recently in Shelton, Washington for the second West Coast Native Oyster Restoration workshop. Sixty attendees listened to presentations and used the workshop as a forum to discuss the science, policy, and practice of the growing efforts to restore the Olympia oyster (Ostrea conchaphila/Ostrea lurida), the West Coast's only native oyster. Presentations addressed genetic variation and taxonomy, larval recruitment, habitat preferences, historic distribution, community participation in restoration, and many other topics. The workshop also featured a demonstration on making concrete-coated spat collectors out of biodegradable materials.

Squaxin Island Tribe member Rick Peters kicked off the workshop with a tribal blessing, followed by the keynote address by Dr. Jeff Koenings, Director of the Washington Department of Fish and Wildlife. A pre-conference field trip took participants to a self-sustaining bed of native Olympia oysters (estimated to contain millions of oysters), and then to a restoration project funded by the NOAA Restoration Center. The restoration project is a collaboration between The Nature Conservancy, Puget Sound Restoration Fund, the private tideland owners, U.S. Department of Agriculture, Taylor Shellfish Farms, Washington Department of Natural Resources, and Thurston County Parks Department. A seafood dinner sponsored by Taylor Shellfish exemplified the solid relationships between government, NGOs, and the commercial shellfish industry in the area of habitat restoration. Workshop sponsors included NOAA, Puget Sound Restoration Fund, UC Davis and Taylor Shellfish Farms. Proceedings from the first workshop are available on the NOAA website and a special issue of the Journal of Shellfish Research is in preparation with papers reflecting the 2006 meeting topics.

Indian River Lagoon Oysters Gain Ground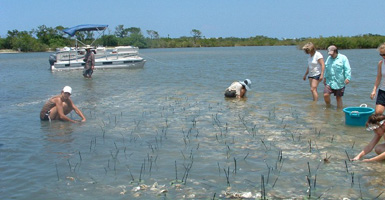 A volunteer-based effort was used to restore oyster reefs in the Canaveral National Seashore, within Florida's Indian River Lagoon. Phase I efforts demonstrated the utility of using 'oyster mats' to stabilize the outer margins of oyster reefs against boat wakes, as well as the strong public support for this restoration effort. © Anne Birch and Linda Walters, 2007.
Phase I of a restoration project designed to restore oysters to Indian River Lagoon in Florida has just been completed. Anne Birch, Indian River Lagoon Program Director for The Nature Conservancy (TNC) collaborated with Dr. Linda Walters from the University of Central Florida (UCF) to deploy thousands of 'oyster mats' to help restore oyster reefs within the Canaveral National Seashore (CANA). Oyster reefs throughout the lagoon have been affected by various factors, but boat wakes in particular have caused problems in recent decades within the Mosquito Lagoon basin. The oyster mats were designed by Walters and students in her laboratory and early pilot studies in the field suggested that they were a viable way to stabilize the margins of reefs that were being affected by boat wakes. With this project, they have shown that the mats are effective at stabilizing the edges of reefs provide a perfect substrate for young oysters to re-colonize the reefs and help support a diverse assemblage of other species.
As with most restoration projects, there were surprises and unexpected outcomes along the way. In a recent St. Johns River Water Management District newsletter, Anne notes that the project provided a tangible connection between people and the lagoon – a connection so powerful that they found themselves "awash with volunteers". While the TNC-UCF team originally expected to recruit perhaps 300 people to lend their time to the project, ultimately they worked with more than 5,200 people over a two year period. These volunteers proved invaluable, however, and enabled the construction and deployment of 3,556 shell mats with some 128,000 shells attached by cable ties to provide a stable place for young oysters to attach. Another unexpected facet to the project was the involvement of Royal Caribbean Cruise Line's "Mariner of the Seas" ship and its crew. The ship and its crew helped with the project by taking aboard the thousands of shells needed for the mats and using the equipment in the ship's maintenance shop to drill a hole in each shell so that it could be attached to the mat once back ashore. In doing so, the "Mariner of the Seas" enabled the project team and its volunteers to create enough mats to deploy throughout this spring and summer.
Underpinning this restoration work is science, and the project provided a valuable platform for research that is already shaping future restoration efforts. Andrea Barber, a graduate student in Dr. Walter's lab, completed her master's thesis using data from the project and was able to demonstrate the areas restored with reef mats support a diverse array of marine life in the Lagoon. The project is entering Phase II, with additional reef margins targeted for restoration in 2007 – 2009. Monitoring of the Phase I reef will continue, along with assessment of areas restored in Phase II. For additional information about the project, contact Anne Birch or Dr. Linda Walters.
Call for Dedicated Sessions – 4th National Conference on Coastal and Estuarine Habitat Restoration

Restore America's Estuaries is pleased to announce the Call for Dedicated Sessions, Presentations and Posters for the 4th National Conference on Coastal and Estuarine Habitat Restoration – Creating Solutions through Collaborative Partnerships.
Proposals are due January 31, 2008. To download the Call for Dedicated Sessions, Presentations and Posters, visit www.estuaries.org/conference.
Restore America's Estuaries' 4th National Conference on Coastal and Estuarine Habitat Restoration is the only national conference focused on the goals and practices of coastal and estuarine habitat restoration. The five-day Conference will explore the state-of-the-art in all aspects and scales of restoration, and will be comprised of field sessions, plenary sessions, expert presentations, special evening events, workshops, a poster hall, and a Restoration Exposition.

The 4th National Conference will be held in New England, October 11-15, 2008 at the Rhode Island Convention Center in Providence. Renowned for its natural beauty, history, and cultural offerings, the autumn colors of New England will set the background for this premier event. The Conference goals are to advance the science, pace, practice, and success of habitat restoration at all scales by bringing together a broad spectrum of people who work in policy, science and strategy, business and best practices.

For more information, contact Steve Emmett-Mattox at 303-652-0392 or program@estuaries.org.
---
National Shellfisheries Association 100th Anniversary Conference, April 4-8, 2007, Providence, Rhode Island. Abstracts for special sessions accepted through January 31, 2008. Registration Deadline is March 31, 2008.

4th National Conference on Coastal and Estuarine Habitat Restoration, October 11-15, 2008, Providence, Rhode Island. Proposals for special sessions being accepted through January 31, 2008.



Back to top »

---
NOAA Restoration Center Online Directory of Funding Programs
Online Resources
The "Practitioner's Guide to Shellfish Restoration: An Ecosystem Services Approach", as well as back issues of the 'Shellfish Restoration Clamor' are available on conserveonline.
Guidance on methods for monitoring oyster reef restoration projects is available at the Oyster Restoration Workgroup website.